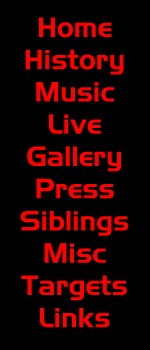 FREE Sediments mp3 files!
Email us: sedimail@thesediments.com
A SEDIMENTS HISTORY
1981

Brian Keys and Pink Bob met in an Argumentation class at Illinois State University in September. Pink was invited to participate in unusual recording experiments being conducted by Brian and his roommate, Scott Lucas, under the nameplate The Dits.

1982

The Dits contunued recording and a strange offshoot called Shmaz was formed by Scott and John Dickison in order to start exploring live music. Brian joined on bass as soon as summer break was over, and he was followed by Champaign, IL guitarist Jeff Michel in short order. Pink joined in December.

1983

The five-piece Shmaz played a number of gigs to amused and bewildered audiences until August, when John relocated to Chicago and the band folded. Dits recordings and various tape-based experiments take its place.

1984

Former Shmaz "manager" Steve Rubin decided to start an indie cassette label called Home Recordings, and he purchased a 4-track cassette outfit as the first step towards a meager "recording studio". Since Pink was living with Steve at the time, he essentially took it over. Brian had borrowed a Fostex 8-track reel-to-reel system from a family friend. They began recording and experimenting together on 4-track and 8-track, and by the end of the summer had a hand full of oddities made with various local musicians and dabblers. One fall afternoon, Brian mixed down the 8-track material onto a cassette and gave it to Pink, instructing him to mix all the 4-track stuff and put together a compilation containing everything they had recorded to date.

Given that the 10 individual "experiments" they had ran only 20:00 long, the remaining tracks were mixed in a couple of hours and Pink assembled a 4-track master with as much studio trickery as the technology would allow. He popped the cassette out of the deck, went to label it, and suddenly realized Brian hadn't mentioned a name for their new compilation.

Earlier that day, the duo had been listening to Slapp Happy/Henry Cow's "Desperate Straights" and, recalling a bit of lyric from "Bad Alchemy", Pink decided that "The Sediments" was a perfect name for the EP-length cassette. He scribbled a label and took it over to Brian's, where they ordered a pizza and listened to the cassette four or five times in a row. Brian suggested that, in spite of the ever-shifting line-up of players, the tape sounded more like a band than a compilation, which it did. Thus The Sediments were born. The C-20 cassette "The Sediments" was released in November, 1984, on the Home Recordings label as catalog number HR-EP1.

1985

After some work with side projects, The Seds returned to recording in August. Picking up where they left off a year before, work in earnest began on a new release in the fall. The Sediments also began the occasional live performance, utilizing the talents of players from a number of Home Recordings bands and their friends (especially That Hope and The Tricycle Thieves).

In November and December, Pink and Brian were in Willie Wells' studio working on a song called "Capitalism, Inc.", which was to be their contribution to the upcoming "Passed Normal" compilation LP. It was at this studio that Pink had his first brush with the Yamaha DX-7 synthesizer.

1986

In February, a brand new DX-7 came into the picture. As Pink and Brian were now roommates, the duo entered an unusually prolific period that, coupled with the few usable pieces from their '85 recordings, made up the "Capitalism, Inc." cassette. Running a full album-length 46 minutes, it was released in July on Home Recordings as catalog number HR-010. It was a collection that pulled the "band" even further into the realms of satire and political/religious/social humor. Meanwhile, the appearance of the song "Capitalism, Inc." on the Passed Normal compilation garnered one sentence of ink in the mainstream press: Spin magazine called it "...Zappa-esque fol-de-rol that has nothing to do with supply-side economics."

By the end of the summer, Brian announced he was moving to Champaign.

1987/1988

Very little ativity, though Pink and Brian added a handfull of new instrumental ideas to the shelf.

On the heels of the success of the "Passed Normal" album on his new Fot Records label, Steve Rubin was looking for future vinyl projects and a scheme was hatched to release either a Sediments LP or at least a 7" EP. Steve booked them into Willie Wells' studio again (moved to Monticello, IL, this time) and Pink and Bri remixed a majority of Capitalism, Inc. The music industry rapidly abandoned vinyl for CD, however, and the Sediments wax never happened. The remix tapes were added to the growing stack of unused recordings.

1989

Brian returned to Bloomington in early 1989; Pink Bob moved into the appartment next door. Some of the old '87/'88 tracks were dusted off, and new writing began. It became obvious that all of the material had a religious theme to it, or rather anti-religious, and the project came to be known as "Blasphemous Music". In addition to old guests from the Home Recordings crowd, this new material featured the young guitarist Tommy O'Donnell from The Something Brothers.

In the midst of the project, Brian started exhibiting signs of extreme depression, and soon began dragging his feet. Pink coaxed as many bass and vocal parts out of Brian as he could and plans were scaled back from a thirty minute cassette to a twenty minute release. Contrary to popular Home Recordings mythology, there isn't 10 minutes worth of "Blasphemous Music" in the can somewhere--the decision to scale back to a C-20 was made before the remaining material was written.

1990

With everything done except a vocal and a bass track that were slated for Brian, "Blasphemous Music" was officially put back on the shelf. Brian's behavior had become unpredictable, and he was soon selling off his instruments, records, CDs, and stereo equipment, declaring himself "retired" from music. Pink and his girlfriend Shawn bought a house in the country and established Sedistudio Lexington, even though it looked like The Sediments were dead...

1991

Pink decided to do the remaining tracks to finish off "Blasphemous Music" and had a final mix by springtime. Rather than letting the band die gracefully, Pink asked Tommy O'Donnell if he'd replace Brian in a limited studio-only setting. Tommy agreed. Since Steve Rubin had retired the "Home Recordings" label in order to focus on Fot, "Blasphemous Music" was finally released in September, 1991 on Fot Records as a C-20 cassette (no catalog number).

As a side note, Pink and Shawn were married in April...

1992

Steve asked Pink if it were possible to do an updated, "New and Improved" version of Capitalism, Inc. While the majority of the original release had aged well, a handfull of tracks had long bugged Pink Bob. He decided to re-record one song and add some newer material to replace tracks that were dropped wholesale. "Capitalism, Inc. 1992" was released at some point in the summer, though the exact date is uncertain since it was a number of months before Pink and Tommy got copies.

Tommy decided to head to California for some intensive guitar studies, and The Sediments were declared dead.

1993

New packaging was comissioned for "Capitalism, Inc. 1992". True to Fot/Home Recordings form, it bore the moniker "Capitalism, Inc. 1993" instead of the proper "1992" date. In early summer, Steve managed the seemingly impossible and asked Pink Bob if he'd like to produce an album by the one and only Tiny Tim.

A special version of The Sediments was formed for the occasion, with Tommy (freshly back in town), multi-instrumentalist Winston Damon, Tommy's brother Jimmy on the banjo, and a few guest musicians (namely Eugene Chadbourne and R. Stevie Moore) on queue for the release.

1994

As plans marched on for the impending release of "Tiny Tim Tromps Through The Twentieth Century", everything was derailed with the twin tragedies of Steve Rubin's sudden death from cancer and Brian Keys' death as a result of an auto accident in Olwein, IA. In a state of shock, work on all music projects ceased.

1995-1997

With a diversion no longer than most in The Sediments' universe, the Tiny Tim CD finally came out as "I Love Me" in 1995 as a joint venture between Ponk Records and Negativland's Seeland label. Pink again declared The Sediments to be defunct.

1998

Innocently enough, Pink Bob decided to assemble a new computer designed for burning CD-Rs. With the help of a local electronics genius and musician named Matt Seniff, the new studio was completed and soon Matt and Pink were trying out the new digital multitrack environment. Pink recognized the result as Sediments material almost immediately...

The new duo began writing songs, oftentimes with the help of some new software called Acid that made previous sampled/sequenced attempts look feeble, and the project became known as "Liars, Cheats and Acid Freaks". Tommy O'Donnell, Trefan Owen and Tony San Filippo added the final element to the new studio band.

While all of this was going on, the Home Recordings moniker was brought back to life for a series of new hand-made CD-R releases and an updated, remastered version of the old "Capitalism, Inc. 1992" (or was it 1993??!) was the debut release on the new label, with "Blasphemous Music" added as a bonus. The new, extended collection was called "Capitalism, Inc. 1998" and was released in May, 1998 with a catalog number HRCD-001. Other releases included several Eugene Chadbourne titles and the local band Slow Cattle.

1999

"Liars, Cheats, and Acid Freaks" was released in spring '99 as a CD-R on Home Recordings, catalog number HRCD-007, but Ponk Records was imploding and the disc sold only a handfull of copies.

Rather than rushing right into another recording, Pink and Matt began putting together a live incarnation of The Sediments. Bassist Roy Francis joined up, but he was becoming more and more unreliable as the end of the year approached. Drummer Tom Sparrow, whom Pink had played with in The Swingin' Hemphills, was recruited and became the fourth member of the new band.

2000

Guitarist Ken Thornton was recommended by both Trefan and Tommy. A monster rock guitarist, Ken instantly added several new dimensions to the band. Roy suddenly vanished from the scene, and Clay Thompson (formerly of local legends The Something Brothers and Spelunkers) accepted an invitation to join. This set things back a few more months, and the new configuration of The Sediments finally hit the stage on June 9, 2000 at The Eagles club in Bloomington, IL. A few weeks after the gig, Clay announced he was leaving to concentrate on playing guitar.

The Sediments called on Matt's old friend Charlie Weeks from Champaign, who joined the band in early July. Pink took a short vacation to Missouri that included some songwriting which yielded three new Sediments tunes: "Democracy Inaction", "American Cheese", and "Spoon-Fed Fred". These new songs would soon become part of the "American Cheese" project...

Live performance was again possible, and The Seds had scheduled an opening gig for Von Frickle on December 9th. A week before the show, Tom had an accident which cut a tendon in his wrist, making drumming impossible. Rather than cancelling the first show in over six months, Scott Lucas was called upon to drum and, armed with a special set list and a single rehearsal, the band presented a well-recieved performance. Tom played a little guitar and hand percussion as the band expanded to six pieces for this outing...

2001

Horn and synth player Dan Meyer joined up briefly. After only a few practices, however, he decided to return to his primary instrument (bass) due to a particularly odd dream featuring Frank Sinatra. New material was written for the upcoming "American Cheese" CD, and a number of live gigs with the five-piece Sediments took place.

TheSediments.com was launched, and the latter part of the year was mostly devoted to personal issues and side projects. The year's most improbable SediNews: Ken Thornton found a part-time side gig with famed ex-Bonzo Dog Band founder Neil Innes. This included two duet performances at the Chicago BeatleFest, as well as two gigs with an expanded line-up of The Rutles in England. Ken also began work on his solo album in his own well-equipped basement studio, playing virtually all of the instruments himself.

2002

The Seds finally managed a few more local gigs. A show had been arranged for July 5, but a personality clash between the band's two senior members caused Matt to resign in late June. True to form, The Sediments pressed on: a new practice space was rapidly assembled, a single rehearsal with the new quartet of Pink, Ken, Tom and Charlie was scheduled, and the band turned out a blistering 95 minute set with the new line-up in front of a small but enthusiastic crowd. More material was written for "American Cheese", and the final live performance of the year found The Sediments sharing the bill with Euguene Chadbourne.

In fall, 2002, the band sublet a rehearsal space that had formerly been a recording studio. Before long, the band was tracking demos for "American Cheese" on a borrowed ADAT deck.

2003

While there had been talk of recording the new project on a 24-track analog machine and working in a conventional manner for the first time ever, the band instead decided to invest in some new recording gear and do the job in-house. The AmChz demos were completed with the new rig, and by March copies of the new Sediments quartet's recordings started making the rounds. Various attempts were made to start the final recordings, but personal business and side projects insured that work wouldn't get underway in earnest until after Thanksgiving. The tentative release date for "American Cheese" was pushed back to Spring 2004...
--Ed Ponk