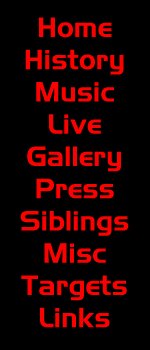 NEIL INNES AND FRIENDS
April 18, 2004
Live at JuJu's, Bloomington IL
NEIL INNES: Vocals, Guitar, Keyboards, Backpacker, Comedy
"RUTLING" KEN THORNTON: Magic Guitar, Backing Vocals
"VET" KEN SIMPSON: Acoustic Guitar, Backing Vocals
CLAY THOMPSON: Bass Guitar, Backing Vocals
JOHN GANSER: Drums
TOM SPARROW: Percussion
PINK BOB: Keyboards, Claves, Ukulele, Trumpet & Fishbowl
Photos by Tim Smith; Scanned & tweaked by Pink Bob
Stoop Solo #1
Stoop Solo #2
Stoop Solo #3
Evening Sun #1
Evening Sun #2
Neil Innes & Friends
Guitars!
Vocals!
L-R: Tom, Neil, John
Rutling Ken burns...
...and burns some more!
Clay and Pink
Vet Ken and Rutling Ken
R. Ken, Tom, Neil
Tom and Neil
Neil and Pink
Tom and John
Neil and Clay
Neil and Pink
Meet The Rutle
Vet Ken and Tom
R. Ken, Neil, Pink
Neil & Friends
(Tom obscured...)
R. Ken, Tom, Neil
Ken and Ken
Neil and Pink
Pink & ill-fated
MiniDisc recorder

Bonus Rehearsal Photo: Neil & Tom

(L) Neil and Tom put their
heads together and make
an ass of themselves.

(R) With a little help from
Photoshop, Ken has made
a COMPLETE ass of them!
Photos (c) 2004 by Tim Smith and Neil Innes.