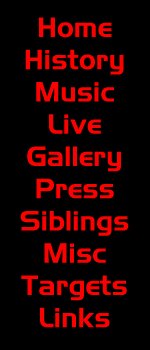 NEIL INNES AND FRIENDS
Misc. Photos
April, 2004
NEIL INNES: Vocals, Guitar, Keyboards, Backpacker, Comedy
"RUTLING" KEN THORNTON: Magic Guitar, Backing Vocals
"VET" KEN SIMPSON: Acoustic Guitar, Backing Vocals
CLAY THOMPSON: Bass Guitar, Backing Vocals
JOHN GANSER: Drums
TOM SPARROW: Percussion
PINK BOB: Keyboards, Claves, Ukulele, Trumpet & Fishbowl
Canopy Club Marquee
At Charlie's after the tour
Another post-tour party pic
Ticket from the Birdy's gig
At the "Bob & Tom Show"
Neil & Kens, Bob & Tom
Outside Martyrs, Chicago
Mark Martucci at Martyrs
after driving from NJ!
The stage at Martyrs
Quacksie Time @ Martyrs
Jean Paul Satire
Tripod, beer & ketchup
Neil and the Kens...
Another Neil & Kens
Nice video camera!
Whoa...trippy!
Under the influence
of tea (again!)
It's all a blur to me...
Neil with Mark
Neil with Mark Jr.
Photos (c) 2004 by Mark Martucci, Jr. & Neil Innes
except photos 1-6 (c) 2004 by Neil Innes.