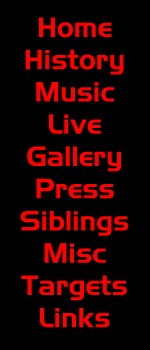 FREE Sediments mp3 files!
Email us: sedimail@thesediments.com
MUSIC
Buy Sediments CDs HERE!
FREE mp3 files are available at mp3.thesediments.com!
---
Discography
---
Compilations
Passed Normal Vols. 1-8 (1986-1993; LPs, Cassettes, CDs; Out of Print)
10 Years of Home Recordings (1994; C-90 Cassette; Out of Print)
Point of Yucca, Vol. 2 (1997; CD; Out of Print)
Plus various other limited-run Home Recordings cassettes, 1984-1993...