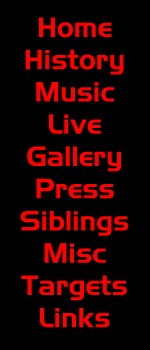 FREE Sediments mp3 files!
Email us: sedimail@thesediments.com
"American Cheese" (Demos)
"American Cheese" is the newest project by the Sediments. While the final recordings are not yet complete, the demo versions were recorded between Fall 2002 and Spring 2003. The final song selection and ordering has not yet been finalized, so this page currently documents "American Cheese (Demos)". Even though this CD-R has not been formally released, a number of copies have been circulated to friends and family of the band. These, in turn, have spawned multiple generations of subsequent burns, and the material in its raw state has found its way around the globe multiple times now.
While copies coming directly from The SediStudio feature full packaging and lyrics, most of the unofficial burns have come without any documentation. For those of you lucky enough to have one of these bastard offspring, this page contains links to the lyrics and just a little more info about who did what. For each song below, click on the song title for lyrics...
Let's Make the Water Turn Black (Frank Zappa)
Count Me Out (Music: PB/Ken Thornton)
Promise Keepers (Lyrics: Tom Sparrow)
Matt Hale's Face (Adapted from a song by Oliver Wallace)
American Coda (Music: PB/Ken Thornton)
Musicians:
Pink Bob (Keyboards; Vocals; Kazoos)
Tom Sparrow (Drums)
Ken Thornton (Guitars)
Charlie Weeks (Bass)
All songs by Pink Bob except where noted.
All arrangements by The Sediments.
Over-produced and engineered by Pink Bob.
Basic tracks recorded by PB at Shiny on Top, Bloomington Illinois, 10/02-03/03.
Overdubbed and mixed at SediStudio Lexington.
All music and lyrics copyright 2003 by The Sediments except track 4.